How To Flatten A Mountain
Arts Residency
1—12 June 2020
How to Flatten a Mountain is an outcome driven 12 days residency opportunity presented by PhotoIreland & Cow House Studios, and with the support of Inspirational Arts, open to emerging and mid-career visual artists whose artistic practice in whole or part, makes use of digital and/or analogue photographic processes.
This residency culminates with an exhibition of artworks produced on residency during PhotoIreland Festival 2020 at The Library Project, Dublin.

APPLY NOW!
Become one of the artists that will participate in How to Flatten a Mountain in 2020. Submit the following documents in PDF format by the deadline at midnight Sunday 1st March 2020.
Recent CV/resume
A portfolio (only one pdf file). Although there is no maximum number of images that will be accepted, we advise applicants to only submit relevant materials to reduce the size of email submissions. The images should include captions or short descriptions. For videos/films/audio, you may provide links to your own website, Vimeo page, YouTube page, within the application form. Do not attach actual video files.
Please submit electronic copies of the three attachments in one email under the size of 10 MB to info@cowhousestudios.com
You will be contacted by a Cow House Studios representative to confirm receipt of your application within five working days. Successful applicants will be contacted by Sunday, March 16, 2020.
HTFAM IS A UNIQUE EXPERIENCE
The aim of this residency is for participating artists to explore possibilities outside their core practice, work collaboratively and produce a cohesive exhibition of work. During the residency, participants will take an active part in a series of workshops led by guest facilitators and as a group will be sharing ideas, making work, processing, printing, editing, as needed, always working in collaboration. As an integral part of the residency, two practicing professionals will facilitate day-long workshops to provoke and animate different avenues for thought. Each facilitator brings to the residency new perspectives, challenges, and opportunities for participants.
This 12-day program is comprised of two parts: workshop facilitation and open studio time at Cow House Studios followed by production time in Dublin which includes the installation and opening of an exhibition at Library Project. The first seven days of the program will be comprised of a carefully selected series of workshops, readings, and presentations designed to stimulate the creative process, facilitate collaboration, familiarise participants with the people and places of the locality, and tease out shared curiosities and thematics. The following five days provide the necessary time and space to critique new works and get prints and other materials exhibition ready. These final days are spent in Dublin producing and installing the exhibition, culminating in an opening on the final evening of the program. In total, participants will spend 7 days and 6 nights at Cow House and an additional 5 days and 5 nights in Dublin.
How to Flatten a Mountain is sure to result in the production of new work, introduce participants to a network of practitioners from a diversity of locations, provide a fantastic exhibition opportunity, and open up new possibilities within each participant's practice.
Residency Details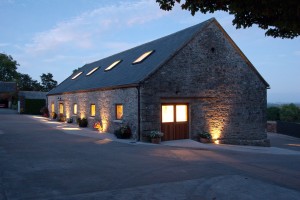 The residency will begin with 7 days and 6 nights at Cow House Studios from June 1st to the 7th. This is followed by 5 days and nights in Dublin from June 7th to the 12th working from both The Library Project and Inspirational Arts. *Artists are responsible for their accommodation while in Dublin. We are happy to advise on your booking if necessary. Applications are open to both Irish and international participants, the cost of the 12-day residency is €750 and includes:
Three delicious and healthy meals daily while at Cow House Studios
Most comfy accommodation while at Cow House Studios*
Informative and challenging readings, workshops and presentations
Travel to and from Dublin to Cow House Studios
Ink and paper for the printers, film and b&w paper for the darkroom at Cow House Studios
Access to all Cow House Studios facilities, computers, darkroom, and studios
A set of exhibition prints produced by Inspirational Arts
An exhibition of the works at The Library Project
Note that flights and airport transport are not covered.
Rough Schedule
Monday, June 1st: arrive at Cow House Studios, orientation & unpack.
Tuesday, June 2nd: workshop facilitation with guest artist
Wednesday, June 3rd: excursion & studio production day
Thursday, June 4th: workshop facilitation with guest artist
Friday, June 5th: studio production day
Saturday, June 6th: studio production day
Sunday, June 7th: pack & depart after lunch at Cow House, check-in Dublin
Monday, June 8th: group critique, Inspirational Arts visit
Tuesday, June 9th: production and show install
Wednesday, June 10th: production and show install
Thursday, June 11th: show install & exhibition opening
Friday, June 12th: group breakfast and debrief, depart Dublin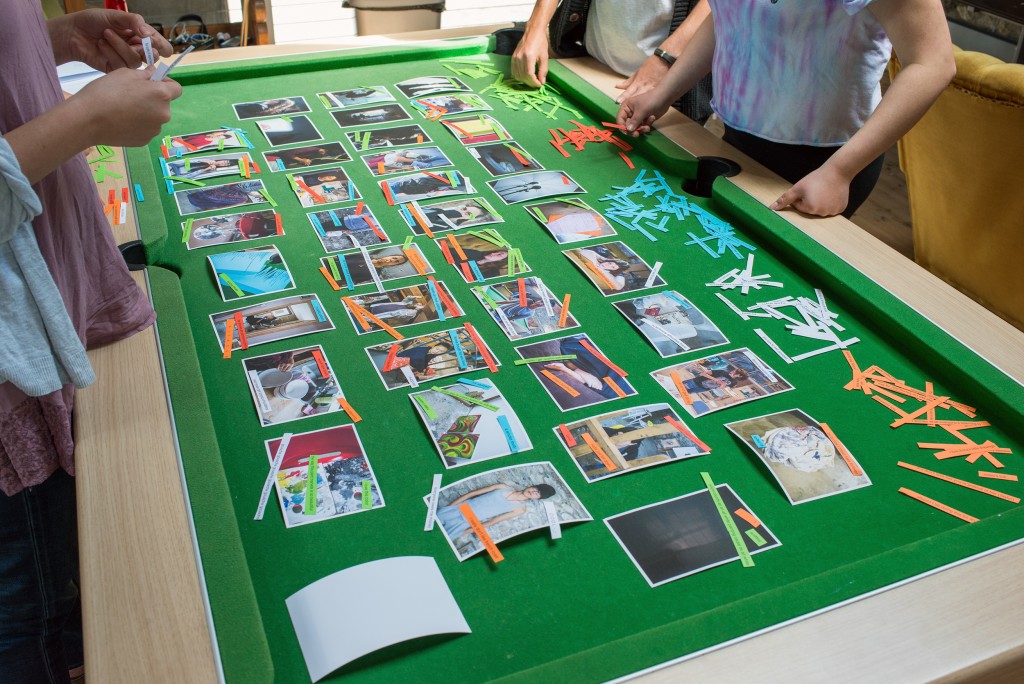 Workshop Facilitators: Sonja Thomson and Eirik Johnson

Sonja Thomson and Eirik Johnson, members of the Piece of Cake collective, will be the facilitators for this edition.
Piece of Cake was created in Rouen in 2002 at the initiative of French photographer Charles Freger. The original group was comprised of artists from several different European countries including France, Germany, Switzerland, The Netherlands, Portugal and England among others. In 2009, Cara Phillips initiated the creation of the North American Cake Collective, with members in various cities in the US, Vancouver and Mexico City. The collective's main focus is to provide support and connection for artists who have a deeply committed personal practice but who also want to engage in a communal experience. They do this by facilitating ongoing artist interaction. Both groups meet in person 1-2 times per year at workshops and maintain communication via text, email and Whats App. These interactions serve many functions: they provide an opportunity to share and to get feedback on works in-progress; to discuss various approaches to artistic practice, technical challenges and arts education; to edit and review book projects, along with a range of other issues that are relevant to artistic production and the life of an artist.
Sonja Thomsen is an American artist whose multifaceted practice choreographs light in space, photograph and sculpture. Working in abstraction while pointedly engaged with questions of equity, Thomsen's installation practice engages the public in wonder as a radical way to imagine a post-patriarchal future.
She holds a Bachelor's degree in Biology and Studio Art from Kenyon College and a MFA in photography from the San Francisco Art Institute. She has exhibited with Bauhaus Archiv Berlin, Soccer Club Club Chicago, Higher Pictures NY, DePaul Art Museum, Center for Photography at Woodstock, the Reykjavik Museum of Photography, New Mexico Museum of Art, Madison Museum of Contemporary Art, Gallery f5,6 in Munich among others. 
Thomsen's work resides in the collections of The Art Institute of Chicago, Beinecke Rare Book & Manuscript Library at Yale University, DePaul University Art Museum, Joan Flasch Artists' Book Collection in Flaxman Library at the School of The Art Institute of Chicago, Museum of Contemporary Photography Chicago, Milwaukee Art Museum, and the Reykjavik Museum of Photography.
Publications include Experiment Photography: New Bauhaus Chicago , Bauhaus Archiv, Berlin, Hirmer Publishers; Keeper of the Hearth – Picturing Roland Barthes' Unseen Photograph , Odette England, Schilt publishing; Un' apparizione di superfici , Luca Panaro, Italy, APM editions; "GR-09022017", Fotogalleriet, Oslo, SKREID Publishing; Earth Now: American Photographers and the Environment, Katherine Ware, New Mexico, Museum of New Mexico Press.  
Accolades include the Mary L. Nohl Fellowship for Individual Artists, Milwaukee Arts Board New Work Commission, Digital Artist in Residence at Columbia College Chicago and a Hermitage Artist Fellowship. 
Thomsen is Assistant Professor, Adj. in the Photography Department at the School of the Art Institute of Chicago. 
Seattle-based photographer and mixed-media artist Eirik Johnson has exhibited his work at spaces including the Museum of Contemporary Photography in Chicago, the Institute of Contemporary Art in Boston, and the Aperture Foundation in New York.  He has received numerous awards including the 2012 Neddy at Cornish Award in Open Medium, a Massachusetts Cultural Council Grant in 2009, the Santa Fe Prize in 2005, and a William J. Fulbright Grant to Peru in 2000.  His work is in the permanent collections of institutions including the San Francisco Museum of Modern Art, the Seattle Art Museum, and the George Eastman House, Rochester, NY.  Johnson's monographs include Barrow Cabins (Ice Fog Press, 2019), PINE (Minor Matters Books, 2018), Sawdust Mountain (Aperture, 2009), and BORDERLANDS (Twin Palms, 2005).
Johnson's editorial work has appeared in publications including the New York Times Magazine, California Sunday Magazine, WSJ Magazine, Travel+Leisure, Metropolis, Dwell, Audubon, Pacific Standard, GQ, and BESIDE.
Johnson serves as Programs Chair at the Photographic Center Northwest and affiliate faculty at the University of Washington.

Project Coordinators:
Ángel Luis González Fernández is Founder and CEO of
PhotoIreland
, dedicated to stimulating a critical dialogue around Photography in Ireland and to internationally promoting the work of Irish-based artists. He won the
David Manley Entrepreneur Award
in 2011 for the PhotoIreland Festival project. In 2011, he launched
The Library Project
, a public resource library of photobooks, whose holdings are currently in excess of 2500 items from more than 250 publishers worldwide. The Library Project also gives name to a unique space in Dublin's Temple Bar, offering the library, an eclectic Art bookshop, and a productive gallery programme. He has been a portfolio reviewer at events such as Les Rencontres d'Arles, Format Derby, PhotoEspaña, and The Triennial of Photography Hamburg. He is responsible for books such as
Martin Parr's Best Books of the Decade
,
New Irish Works
, and the ongoing TLP Editions. He contributed to Landskrona Foto 2016, focused Photography in Ireland, and he is an invited lecturer at university programmes, such as the Fine Art Photography Master at IED Madrid.
In 2019, he launched the public-facing project entitled 'The Museum of Contemporary Photography of Ireland' with its first instalment running 1-31 July as a 2000m2 exhibitions space, enquiring about Museums and Photography. The project will run every year during July as part of PhotoIreland Festival, eventually becoming a fully fledged museum space.
Frank Abruzzese is Co-Director of
Cow House Studios
along with his wife Rosie O'Gorman, which they established together on her ancestral home in 2008. As an artist Frank has exhibited his work extensively including the recent exhibitions
HALFTONE
,
The Library Project
, Dublin, 2015,
185th Annual Exhibition
, RHA, Dublin, 2015,
Fauna
, Smith Andersen North Gallery, San Anselmo, CA, 2014,
Live Load
, Wexford Arts Centre, Wexford, 2014, and
Adhocracy
, Istanbul Design Biennial, Istanbul, Turkey, 2012. His work has been published by Domus magazine and San Francisco Magazine and is part of the permanent collection of the Office of Public Works, Ireland. Frank has curated the exhibitions
Give Way
, Wexford Arts Centre, 2015,
Forest
, Wexford Arts Centre, 2014,
They all came down from the mountain when they heard the good news
, Monster Truck Gallery, Dublin & Wexford Arts Centre, Wexford, 2013 and
Trace
, Diego Rivera Gallery, San Francisco, CA, 2003. Frank is a dedicated educator and as the photography instructor at Cow House, has a keen interest in a multidisciplinary, ideas-based approach to working with students. Frank obtained his BA in Moving Image Arts from the College of Santa Fe, NM in 2000, and his MFA from the San Francisco Art Institute, CA in 2004.
Frank Abruzzese's working methods are experimental and process driven. He is drawn to subjects that are both familiar and often overlooked, and uses photographic techniques to transform the mundane into something extraordinary or ambiguous. He investigates how subjects might collide with traditional interpretations of the landscape, architecture or portraiture, and how these expectations can be met through alternative means. His use film selection, exposure and digital techniques make small incursions into perceptions of photography's assumed role as factual document.